On friday 3 februari we have brought out Nyssa ( Thunder Dragon Geneviève) at the international dogshow Eindhoven.
Paul and Anja were encouraging Nyssa. They are the owners of Nyssa's mummy Elin.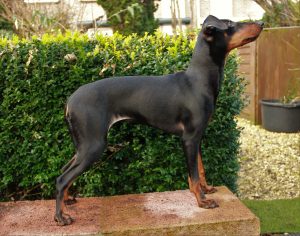 The belgium judge J.F. Vanaken gave Nyssa 1 very promising in the puppy class.
He was impressed what Nyssa showed today and hopes to see her in the future.
Her rapport:
Nice puppy. Type nicely defined. Overal yet good matured in structure.
Very beautiful female head. Nice proportions.
In total good angulation. Front and hindquarters correct.
Good gait, well coordinated.
A very proud Paul, with his girly.
We are very pleased what Nyssa showed us today. Our little dragon.