Thunder Dragon Barton (Bart)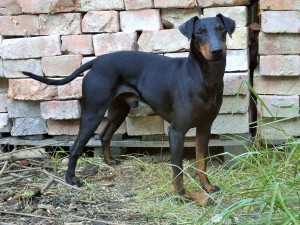 Born on 15 octobre 2010.
My dad is Champ Iss Hogai Yukan NJK '08, JW'08 and my mum is Champ Wise Lady v.d. Posthoornwieke.
Height: 40 cm (15.7 inch)
Von Willebrands factor: free
Character:
Bart is an open and social dog. He likes people, children and other dogs.
Titles:
CZ-Junior Champion
CZ-Club Junior Champion
Club Junior Winner 2011
CZ Champion
CZ Champion CMKU
CZ- club Champion
CZ Winner 2012 en 2013
International Champion
Owner:
Kateřina Bartoňová
tel. +420 604 523 478
e-mail: manchesterterrier@seznam.cz
Litters:
Kennel Ze Zamecke Zahrady: Raffy vom Trajan x Thunder Dragon Barton – 5 puppies (2012)
Kennel  Metheora:  Metheora Alice x Thunder Dragon Barton  – 4 puppies ( 2012)
Kennel Ze Zamecke Zahrady: Isabelle Raffy vom Trajan x Thunder Dragon Barton  – 5 puppies (2013)
Kennel Ze Siskova Mlyna: Linda Lady Ze Zamecke Zahrady x Thunder Dragon Barton – 8 puppies (2013)
Agi Rymus x Thunder Dragon Barton – 6 puppies (2013)