From friday 3 june till sunday 5 june was the 25th Manchester Terrier Happening in Rödermark, Germany.
From 8 European countries participants took part:
Germany, Holland, Belgium, Check Republic, Poland, Switserland, Slovenië and Finland.
The arrival was at friday.
On friday there was time to have a chat and the dogs could run and play together.
Under a snack and drink friends met eachother and new friends were made.
Saturday was the opening with a land parade, dog frisbee demonstration, dog games and dograce.
In the evening was the price reward for best dogs in race and best dogs in games.
There was a good buffet and time to have a chat.
The atmosphere was very nice and sound.
The sunday was the dogshow. The judges this year were Carol Wicker and Judy Thurlow from the UK.
They had the honour to judge 61 Manchester terriers. They have done it with love and time for each dog.
We are still completely surprised that our Meagan (Thunder Dragon Caitlin) became Best in Show. Best opposite sex was Santo Baikis Esperanza.
All dogs who we have bred did a wonderful job in Show:
Thunder Dragon Declan 2th place in the champion class
Thunder Dragon Axel 1th  place in the petdog class.
Thunder Dragon Collin 4th place in the petdog class.
Thunder Dragon Freija 1th place in Youth class bitches.
Thunder Dragon Faithful Jodi 3th place in Youth class bitches.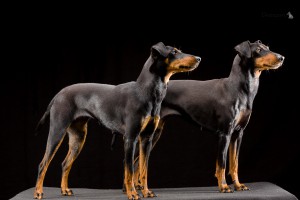 After the Show Sabine Feicht gave a demonstration dog trailing. Wonderful to see how a manchester terrier is working to search for people.
The day was ended with the Reward for Overall Winner.
Veronika Tobolková with Avalanche Dream's Eimmi became overall winner 2016.
Many congrats Veronika and Eimmi.
We are looking back with a lot of memories on a cosy and nice weekend. We want to thank Manuela Schickling and Isabella Zenk for all the hard work and making it possible to do such a good job. Also the people who have helped during the Manchester terrier Happening 2016.
We hope to see you all next year in Berlin.
For an impression of the weekend, click here.
For more pictures from Dinozavrija, click here