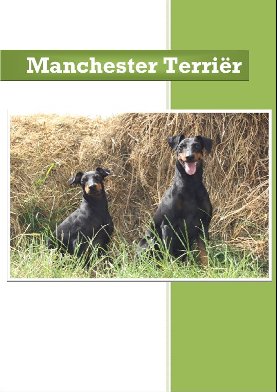 Written by : Sandy Krijgsveld- Koster
A dutch book with information about the Manchester Terrier.
The book includes the folowing topics: The English, Dutch, Belgium and German history. A breed standard, the character, education and care. What to do when you are going on holiday with your Manchester terrier. Which Sports can you do with your Manchester Terrier.
Pages: 107
Format:: A5
Full color
ISBN: 978-94-6008-215-3
A paperback version you can order via a bookshop.
A hardcover you can only order via us. Costs 32,50 euro, exclusive transport costs.
A paperback you can order via Kirjaboek. Costs 19.50 euro, exclusive transport costs.
To order a paperback click  HERE
To order a hard cover click HERE