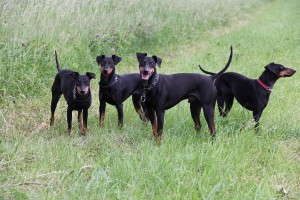 A Manchester terrier has been our chosen friend since 2003. For us means a Manchester Terier a devoted Friend for life.
A friend who stands always ready for you. Healthy and fit for action.
Looking for a breed of dog was made difficult due to allergy problems; our choice was a Manchester terrier due to their short and single coat. We spoke to a Dutch breeder and were impressed by the intelligence a dog small in size but big in character.
Spike our first Manchester terrier came home that year, in 2005 we added Caelin.
A Manchester terrier enjoys doing and being with you. They enjoy obedience, sports and games. Our enthusiasm grew for the breed and from there our kennel name Thunder Dragon was born.
The name sums up the breeds character. Thunder and Lightening – unpredictable, scary with a lot of noise. The Manchester is small but fearless, knows what it wants and has a great voice.
Dragon – Rare and elegant. A Manchester can react like a dragon with a lot of fire.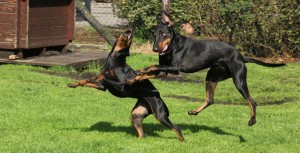 If you would like to know more about this old terrier breed please contact us, you are most welcome to visit the Thunder Dragon Manchester Terriers.